Telehealth has arrived at Werribee Foot Clinic. To make an appointment for Telehealth just go to the book an appointment tab on the top of our home page click the tab then scroll down until you find Telehealth and select the appointment type you need. If you would prefer just ring our clinic (03) 9974 3808 and we shall make the appointment for you.
Medicare have created a bulk bill rebate for Telephone call consultation or Video call consultations. You must have a current CDM(Chronic Disease Management Program) or EPC referral from your GP to be eligible for this rebate.
Private clients maybe able to access a rebate through eligible private health funds. Best for you to check with your health fund as some Private Health Funds have approved Telehealth for Podiatry.Payment is required at time of booking through swipe.
Video Consultation – you must have chrome search engine, a device such as a smart phone, iPad, or computer with a camera and microphone.
Telephone Consultation – you just need a home phone or mobile telephone.
We have already taken Video consultations with very positive outcomes. For example managing an injury to a big toe after a back yard game of soccer with the kids went wrong.
Once you have made a booking you shall receive a confirmation email with the link which you just click on when the time comes for the appointment. You will also receive a reminder the day before the appointment via text and some trouble shooting tips. Don't be nervous we see this as a very important part of providing Podiatry to our clients now during Covid – 19 restrictions and in the future.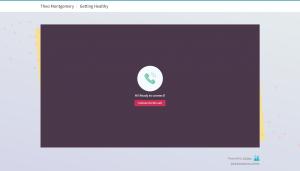 https://werribeefootclinic.com.au/wp-content/uploads/2018/10/logo-maroon.png
0
0
Phillip Spark
https://werribeefootclinic.com.au/wp-content/uploads/2018/10/logo-maroon.png
Phillip Spark
2020-04-09 13:36:22
2020-04-09 13:36:22
Telehealth@Werribee Foot Clinic